Pratyusha Banerjee Suicide: Rahul Raj Singh's Lawyer Quits The Case!
Neeraj Gupta, Rahul Raj Singh's lawyer has quit the case.
A day after the TV actor Late Pratyusha Banejee's boyfriend Rahul Raj Singh was booked for abetment to suicide; his lawyer Neeraj Gupra has refuse to fight for Rahul Raj. Reportedly, Neeraj said that his client was hiding crucial facts about the case since Pratyusha's death.
While speaking to Hindustan Times, Neeraj Gupta said, "My soul did not allow me to continue with this. What my parents have taught me goes against this. A girl has died here because of someone else and what he did." He added that Rahul was not honest since the day Pratyusha died. Apparently, Gupta did not know about the fights between the couple and the allegations that Rahul used to torture her.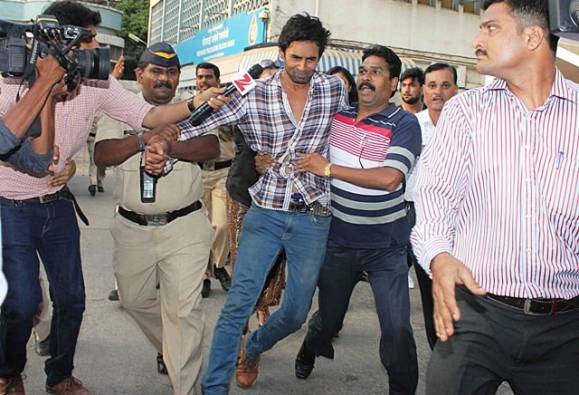 Source: abplive.com
The Actor/TV producer Rahul Raj Singh is currently in Sai Hospital in Mumbai suburbs after he complained for chest pain. He was booked by the Mumbai police after Pratyusha's parents filed an FIR against Rahul at Bangurnagar Police Station.
Pratyusha's mother Soma Banerjee said, "He (Rahul) should not get out. My daughter should get justice and I would like to appeal to the entire nation to help me in seeking justice for my daughter. He tortured my daughter a lot and finished her,"
When she was enquired about what sort of justice she expects, Soma said, "He should be kept alive in jail and made to suffer for his entire lifetime."
Pratyusha's parents alleged Rahul used to scare her and alienated her from her friends.
Though, Advocate Ashok Sarogi has taken on the case and will be representing Rahul Raj Singh as his client, has filed for an anticipatory bail. The bail hearing is scheduled at Dindoshi session court.
Rahul Raj Singh has been booked under IPC sections 306, 504, 506, and 303.
Related Content
LATEST REVIEWS
Imagine this- a husband and wife are discussing about their child. The husband reads from a magaz... more

Aren't human beings supposed to be creatures who have their own vices and fallacies? But often ti... more

The tough times of the covid-19 pandemic have certainly made us stop, look around, think and repr... more