5 Iconic Romantic Films Which Released In October
Move over February, October is the official month of Romance for Bollywood! We bet you didn't notice this, but there's a creepy pattern in how some of Bollywood's most celebrated romantic movies released in October. And all this while, we've been obsessed with February. Take a look and go Whaat!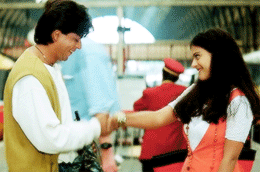 source scoopwhoop
Dilwale Dulhania Le Jaayenge (1995)
Ordinary looking cast, ordinary story of a lover who crosses the seven seas to get the bride, with exceptional talent and execution makes DDLJ the classic Bollywood never knew it would have. From a debut director who was the son of the King of Romance Yash Chopra, Aditya Chopra hasn't made a masterpiece like DDLJ again. Shah Rukh Khan and Kajol can keep thanking Adi for seven incarnations for giving them DDLJ. And as long as the internet exists, DDLJ will be immortal. 21 years and still counting… October is officially the month of love for Bollywood.
source tumblr
Kuch Kuch Hota Hai (1998)
The movie that redefined love and friendships released on October 16, 1998. While K Jo's debut movie is still a blockbuster in the hearts of his loyal fans, Rahul's illogical love is widely criticized till date. Even Karan thinks he was an asshole. College romance, bonds of friendship, the importance of hand written letters, memories and warmth of a mother, all this made Kuch Kuch Hota Hai an out and out masala movie encapsulated in romance. The crackling chemistry between all the four stars including Salman Khan took away all prestigious awards back home and K Jo has never been able to make that mark again. It's gold for the 90s kids whose value will never depreciate. Remember, it's an October movie, not February! If you know what we mean.
source tumblr
Mohabbatein (2000)
Times when Bollywood didn't exploit the concept of Eid, Diwali, Christmas, films came and went and took the limelight and share of accolades that they deserved. Mohabbatein was one such movie from the house of Yash Raj, the second movie directed by Aditya Chopra which released on 27th October 2000. The bold kisses, skin show and exotic dresses in the movie introduced six brand new faces to the industry, five of which have vanished, except for Jimmy Sheirgill, who never gets the girl since then. The dance face off culture, Valentine 's Day, Holi, Diwali, prom nights is not so February after all. It all happened in October.
source youtube
Rehna Hai Tere Dil Mein (2001)
"Main Dill Bol Raha Hoon Maddy Se!" and the crowds went nuts over Ranganathan Madhavan and Dia Mirza's love story back then. Ofcourse we know him better as Manu Sharma from Tanu Weds Manu franchise, but those were the days when he could make ovaries explode. Our quintessential dark, tall and handsome hero with brooding eyes, RHTDM was a splendid movie with amazing music by A R Rahman. RHTDM is one cult romance that too happened to us in October.
source tumblr
Jab We Met (2007)
October 26, 2007, a movie made on a shoe string budget, with two lovers who broke up by the end of the shooting, a not so successful director who was one film old, an outspoken loudmouth female protagonist, and a daring experiment with the treatment of the movie didn't promise a Jab We Met classic. The rest we know is history! Every girl feels signs of the fact that she's Geet from Jab We Met, and she wants an Aditya Kashyap in her life. The dialogues of Jab We Met are iconic, and after Kuch Kuch Hota Hai, this movie turned around the way people saw romance. October, we're telling you is the month of love.
Related Content
LATEST REVIEWS
Nawazuddin Siddiqui had been shooting for this film called Ghoomketu back in 2014! Yes, this is a... more

Sometimes you get extremely excited for an upcoming film because of its star cast or the trailer.... more

Jacqueline Fernandez's Mrs. Serial Killer is one of the laziest films that I have ever seen. It s... more