Bigg Boss 10: What's WRONG With Bigg Boss This Season?
Four days into the baap of reality shows, the shows looks too dull this year!
While a lot of people were contemplating that the Indiawale versus Celebrity quotient might not work for the show, the actual reason why you might not be enjoying this season is different.
What's irritating?
The breaking news concept of pushing the breaking news with renowned anchor Dibang and overtly exaggerating events to make them newsworthy is damn irritating. Not that the show was ever about non exaggeration, but the previous seasons were engaging, to say the least. When there's no meat in the house, don't cook it! The show can be edited better and the discontinuity and constant explanation in voice overs and the text on screen is not a good viewer experience.
Swami Om – TRP Generator? NO! The Real Face Of Indian Society
This man in the sadhu clad clothes and tantras and mantras is being hated and yet not being ignored by the audience each day. Everyone is prophesizing that Om will make it to the finale as he's a TRP generator. Isn't there a certain amount of discomfort attached to his presence on screen? He looks irritating and mind f**king because he's one of those people who represent the orthodox Indian society. Sorry! Orthodox is an understatement for this man. Even Deepika didn't seem to like him when he was around while she was in the house. The actress couldn't camouflage her irritability towards the man and his nonsense. Swami's nonsensical talks are meant to entertain? He looks irritating and mind f**king because he's one of those people who represent the orthodox Indian society. Sorry! Orthodox is an understatement for this man.
Commoners are acting like celebs and Celebs are keeping it real
From Priyanka Jagga to Lokesh Kumari, Manoj to Manveer and of course Swami Ji, all have come prepared to ACT and not to play the game. Some of them are really camera conscious and some are too confident in front of the lens. Their monologues and tantrums, fights and conversations are too staged to be coming from a common man. Celebs on the other hand, including Bani J for that matter are keeping it steady and playing the game.
Have we gone wrong? Bigg Boss?
So what's the scene right now?
Remaining inside the jail with Swami Om is worse than being in jail! He's the latest inmate in the prison and in his very artificial avatar, he gave a 'Sada Saubhagyavati Bhava' aashirwad to Priyanka Jagga who is conspiring to shoo away Monalisa.
Priyanka celebrated Karva Chauth and she stood in front of the camera, while contestants whispered that she ate all day! She didn't wait for the moon though, and we quite like it! Swami Om joined her in her pooja from inside the jail and read the mantras for her. Mona said that Priyanka is a nautanki, because she was making a fuss out of the entire procedure of the Karva Chauth Pooja.
"Main pooja kar rahi hoon, toh kehti hai acting kar rahi hai!" #PriyankaJagga is furious as @MonalisaAntara calls her fake!#BB10MahaEpisodepic.twitter.com/SMGnX6h3vj

— Bigg Boss (@BiggBoss) October 20, 2016
Priyanka clearly said later that she didn't keep any fast and she didn't wait for the moon and did her pooja in front of the camera. The common people became a bit sentimental about the hoopla around Karva Chauth and had a soft corner for Priyanka. Celebrities however, were of the opinion that Jagga was acting all the time.
Lokesh is in her own world and she's doing pretty well to entertain the audience. Her latest request from Bigg Boss involved bringing lemons and 'Dahi' (Curd) from the neighbouring house.
Karan and Priyanka received gifts from their homes on the occasion of Karva Chauth, since they're the only married people on the show. Karan wept and ate the mithayi his wife had sent while he saw a picture she'd sent.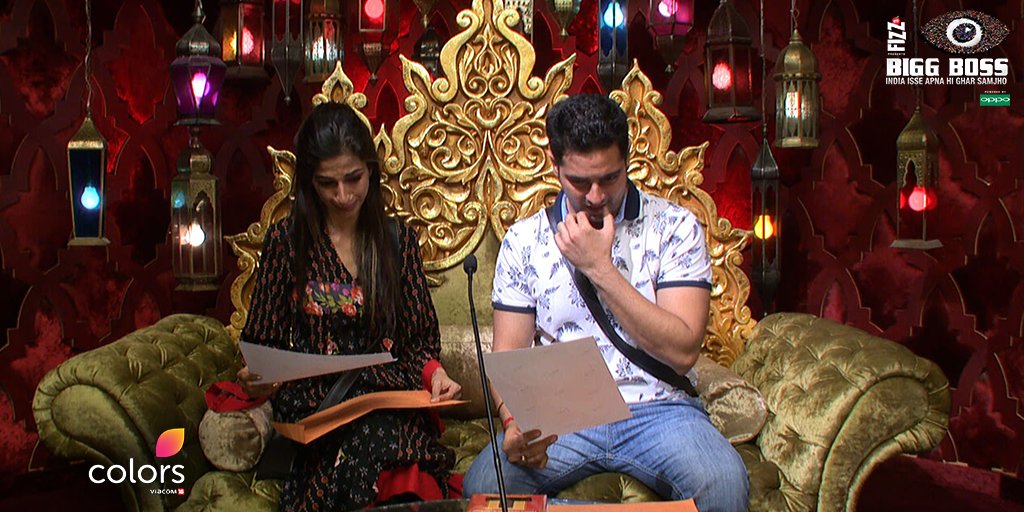 source Twitter
It's perhaps the most absurd season of Bigg Boss, because the sight of Priyanka running to Swami Ji as soon as they saw the moon and the sudden chanting of mantras is too difficult to digest.
Tonight's episode will show Swami Ji giving up on the non air conditioned jail and he'll accept that he is a fraud and dhongi! WOW!
We're not impressed! Are you?
Related Content
LATEST REVIEWS
Film: Jai Mummy DiActors - Supriya Pathak, Poonam Dhillon, Sonnali Seygall, Sunny SinghDirector -... more

Just Mercy is a legal drama directed by Destin Daniel Cretton and stars Micheal B. Jordan, Jamie ... more

Ajay Devgn's Tanhaji: The Unsung Warrior celebrates the life and valour of the Maratha army chief... more