Bigg Boss 10: Sonakshi Sinha And Manish Paul Make The Christmas Merrier In The House
After all the high voltage drama on that kick started the weekend and led to Priyanka Jagga's eviction, the weekend finally ended on a jolly good note for the inmates of the Bigg Boss house. Salmna is joined by his Dabanng co star Sonakshi Sinha and they are both happy and dancing. Then Sonakshi is gift wrapped in a huge box ready for her entry in the Bigg Boss house. This certainly made the Christmas brighter for the housemates and Sonakshi even had a game or two to play with the contestants.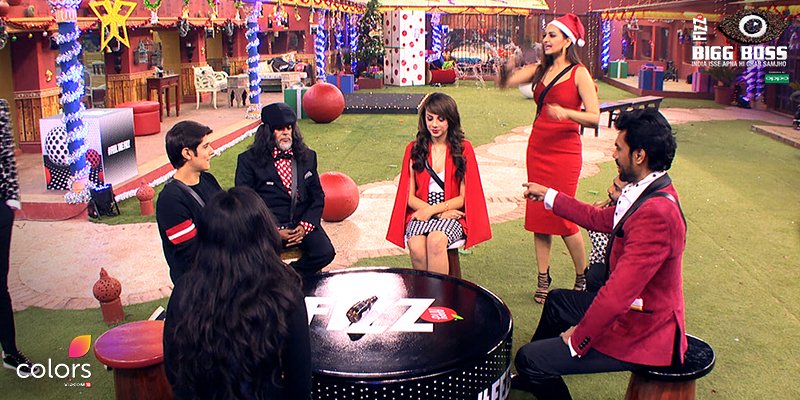 source: twitter
Also Read: Shocking: Did Priyanka Jagga Suffer A Miscarriage Inside The Bigg Boss House??
Here's all that happened in the Bigg Boss 10 house this Sunday –
Sonakshi introduces the contestant to a game where in they had to guess which contestant said these comments about them. A wrong guess will lead the them drink a can of Appy Fizz.
The first question goes to Bani and she has to guess who called her a hypocrite between Nitibha and Lopa? She says Lopa which was the wrong answer and had to gulp down the can of Appy Fizz. The bottle next stops at Nitibha and she had to guess who said -"Mujhe laga ki ye ladki weekend mein chali jaegi but 4 din ki galati hai. padne de use manveer ki god mein." She guesses Manu and that is the right answer.
Mona had to answer who said - Agar Mona apne Sunny Leone image follow karna chahti hai toh kyu ro rahi hai? And it was said by Manu. Gaurav had to guess who said that he is manipulative and selfish and these were Lopa's words!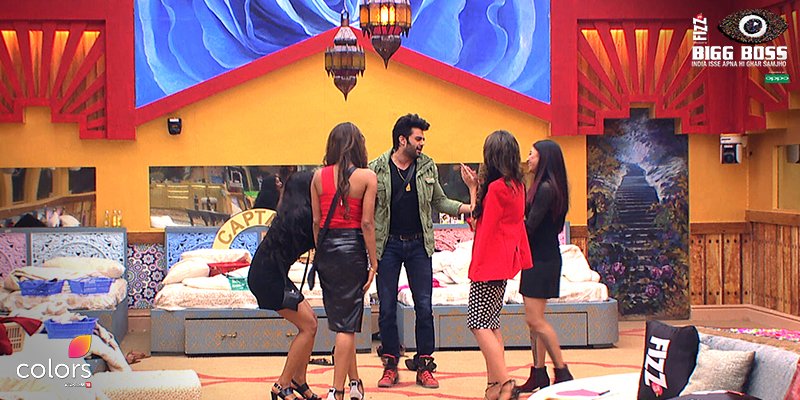 source: twitter
After the game, Manish Paul enters the house and plays a very quick round of rapid fire with Bani, Manveer and Manu. It intensifies the mood a bit as some hidden emotions and secrets vent out.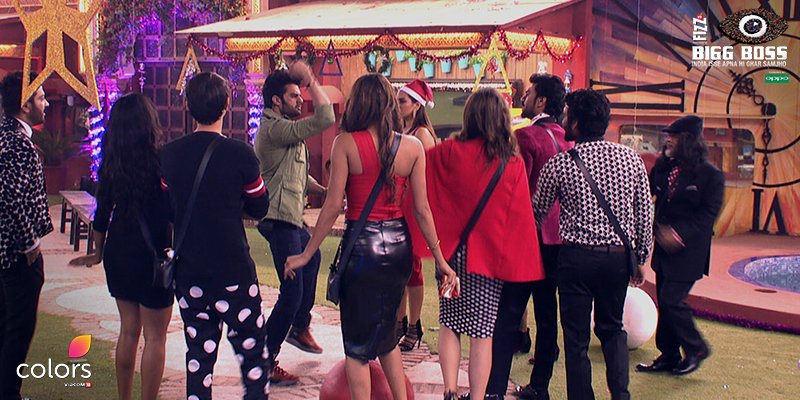 source: twitter
Sonakshi and Manish make an exit and join Salman on stage. While Sonakshi breaks into a performance with Sallu Bhai Manish takes up being the host for a bit. If you thought the the games were over, Salman introduces something special for Sonaskhi. The game is called 'Thapad se darr nahi lagta' and she is made to sit in a thappad kursi where and will be asked some Bollywood trivia. A wrong answer results in a thappad.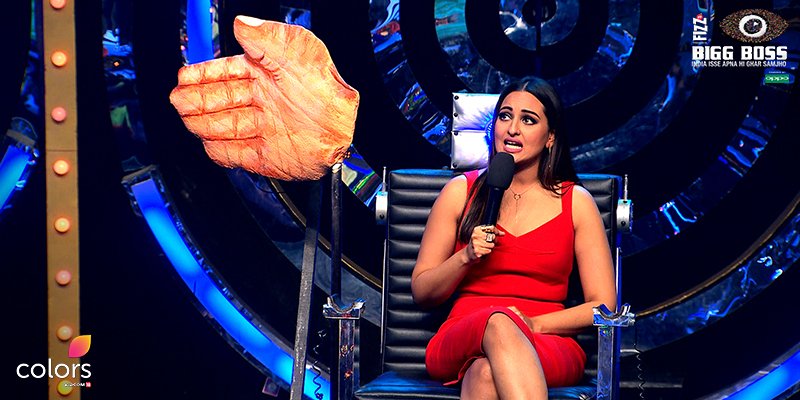 Source: twitter
Sonakshi is asked to name three movies where Salman is not called Prem and she gets it right. What she doesn't get right however is the first film of her dad Shatrugun Sinha and is given a thappad.
Manish is next in the chair and is asked all random questions which all result in a thappad and Salman and Sonakshi have a good laugh.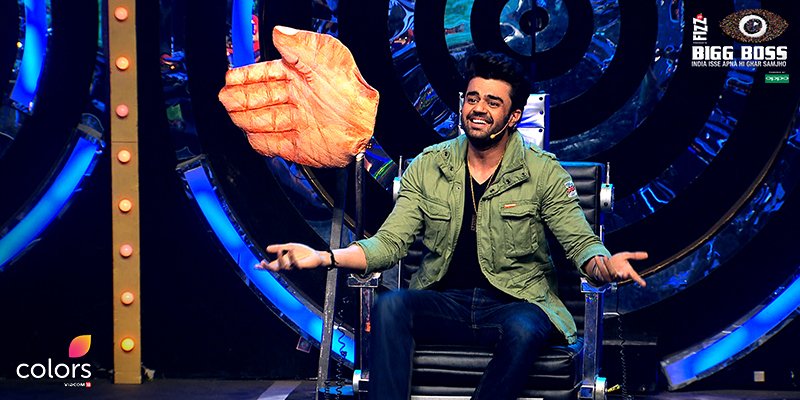 Source: twitter
Salman makes the Christmas happier by announcing that there will not be any eviction and that Manu and Om Ji will not be nominated for the next week as they did good in the family app task. Gaurav, Bani and Mona however remain nominated for the next eviction.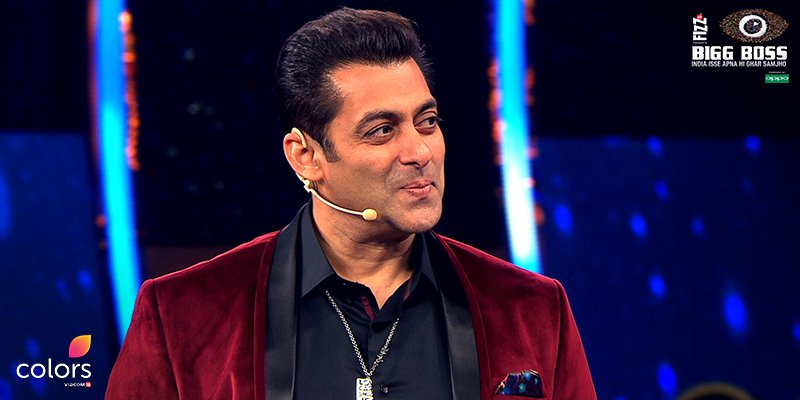 source: twitter
After all the fun in the episode the inmates give a special performance for Salman's birthday that is coming up on 27th and the day ends on a cheery and happy note!!
Also See: Unseen Childhood Pictures Of Sonakshi Sinha That You Can't Miss
For latest movie reviews, ratings and trailers, download the Desimartini App
Related Content
LATEST REVIEWS
Aren't human beings supposed to be creatures who have their own vices and fallacies? But often ti... more

The tough times of the covid-19 pandemic have certainly made us stop, look around, think and repr... more

Nawazuddin Siddiqui had been shooting for this film called Ghoomketu back in 2014! Yes, this is a... more