Bigg Boss 9: No Toilet No Shower, 24 Hours Bigg Boss Power!
Bigg Boss is at its peak and the show is now becoming super interesting! Thank God for it!
Mandana- Cry Baby
The day began with Priya eating Mandana's head for not telling her about her favourite scarf. Madana is such a cry baby we tell you! It was a funny sight to see Priya fighting with Mandana, then Prince. When she wasn't even talking to Mandana, the cry baby was weeping aimlessly. If you know why then let us know! Humari samajh ke bahar hain ye deviji!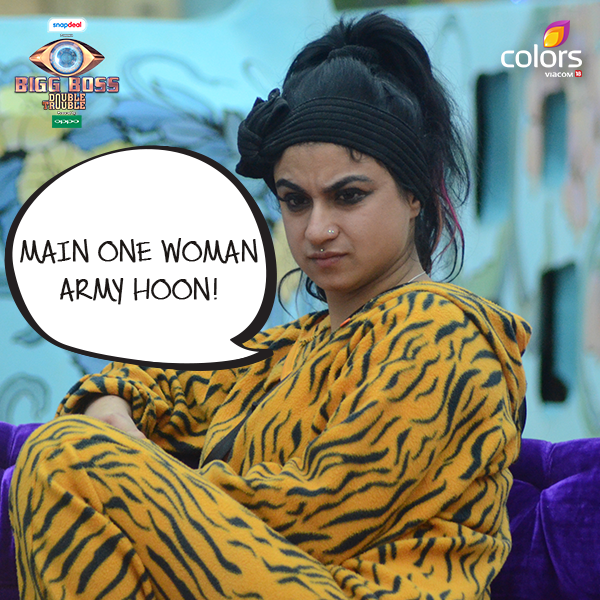 Ticket To Finale Task – Sand Task
Bigg Boss has given the contestants to manage to have as much sand as they can in their sand boxes for 24 hours, while competitors can lagao their edi choti ka zor to empty their boxes. Rochelle got hurt and manhandled by Priya while she broke her sand box tap. Keith is the sanchalak while Kishwer and Prince are trying to help each other to win. Rishabh on the other hand is playing at his wittiest best and entertaining the hell out of us.
The second part of the #TicketToBB9Finale task has the housemates going all out for the win! @princenarula88https://t.co/SApv4OfH98

— COLORS (@ColorsTV) January 6, 2016
This is by far the funniest task of Bigg Boss 9!
Rishabh & Prince – The Entertainers
This man is brilliant! The only entertaining person in the Bigg Boss house! We loved his slogans like rishabh shouted out loud: "No toilet no shower, 24 hours Bigg Boss power!" and Prince echoed: "Humara sanchalak kaisa ho Keith Sequeira jaisa ho!" They're playing a very clever game but why not!
It's going to be very interesting to watch which three people will win the ticket to finale during this task! Dekhte raho bahi, abhi toh maza shuru hua hai!
Related Content
LATEST REVIEWS
Tales from the heartland have found a special place in Bollywood and Hansal Mehta's Chhalaang mak... more

As unpredictable as a game of Ludo itself is Anurag Basu's latest film. With four key players and... more

Diwali festivities have finally kicked off on OTT with the arrival of Akshay Kumar's Laxmii. Sadl... more