Govinda Finally Opens Up About His Tiff With Salman Khan And All That Is Wrong With Bollywood Today
Entertainers of Govinda's stature have been really few in an industry that is currently brewing with talents. The actor has ruled our hearts all though the 90's and has an impeccable style of his own. But recently the actor has stayed away from the limelight or what it seems from his recent interview has been completely neglected by the industry.
Also See: This Video Of Govinda In A Superman Avatar Will Make Christopher Reeve Roll In His Grave!
Source: indiatoday
Govinda recently turned 53 and has announced a film of his own called Aa Gaya Hero. Getting very few films lately he seems to be sidelined by the big 'camps' of Bollywood. Not very pleased with this camp system the actor spoke out with brutal honesty his frustration with the industry. Some of his direct and hard hitting facts are really shocking and sad to read at the same time.
On being asked if he lagged behind because he never got embroiled in the politics of Bollywood camps this is the explanation Bollywood's original hero gave -
"These are well educated boys. They have an aim in mind and have brought camps with them. Take a look at all award functions. A person belonging to one camp is giving the award, person belonging to another camp is receiving it, a third one is giving a speech while the fourth one from the same camp is sitting in the audience and clapping. So camps and classes have become important. Even if you are not into politics, you get into it. I have seen that these padhe likho ki team are different. They are lucky. Lekin main burayi main bhi taarif karunga. They must have thought Govinda is not a man of our class. Not as educated as we are. What will he say in his answers? So let's stay away from him. That's fine. Earlier I used to feel bad about them not calling me at all. What do they think about themselves, I used to think. But then later I realised they are educated people and I am different. I will find my own path and that would be good. God bless them. Bhayankar camps exist here. Inki badi milli bhagat hai(all are in collusion).Bade chalu hai yeh log. (They are very smart). Mujhe koi gila shikwa nahi hai. (I have no complaints against anyone). I have never got any big directors or producers. The songs I got were the 'Akhiyon se goli maare' types. I did whatever I got."
Source: mid day
Once he was great friends with Salman Khan and their on screen Partnership was thoroughly enjoyed by the audiences. But that have sustained and neither did Govinda's career thereafter. On this friendship that went sour, he said -
"There was no chance of me staying in Salman's camp. I was praised in such a manner that Salman was told you shouldn't come infront of Govinda. And such similar situations have happened with me even when I worked with Amitabh Bachchan, Sanjay Dutt or Salman Khan. These people have always loved me. Finally, one actor will love another actor only only to the extent to which his own business remains unaffected. And that is not wrong. Salman has always stood by me. And when someone lends me support, I am always with him. Today however I don't have any expectations from Salman. Because he has been told so much about me that there will not be a chance of us acting again together."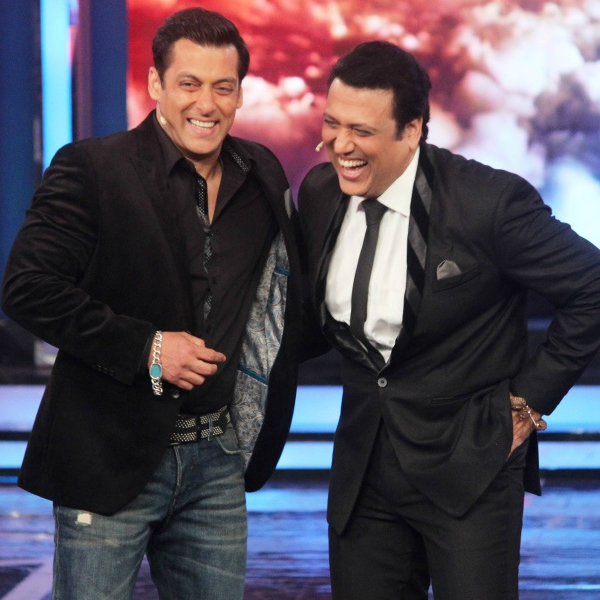 Source: dna
About his upcoming film Aa Gaya Hero the actor had this to say,
"In this I am playing a police officer. I also want to keep the brand Govinda alive as a hero. When you start making guest appearances in films, people starting talking about you as an actor who is only doing cameos. And before you realize, you will get sidelined."
Source: goissipwala
The actor had some concerns for the young generations in Bollywood and he had some sad things to say comparing it to his own career graph -
"I wouldn't want Varun Dhawan to be the next Govinda. To be a Govinda, you have to go through many trials and tribulations. You get to see the bitter truth of life. I don't want newcomers to go through all that. Govinda is a village bred, uneducated guy who doesn't have too much understanding of words and who has been misused a lot of times by the educated lot and who despite not being able to stand in politics, won it. All these things shouldn't happen with amateurs."
Source: theexpresstribune
While there are several actors of his age ruling the Bollywood scene today, Govinda's career took a back seat even with his will to entertain the audiences that love him whole heartedly. Govinda was last seen in Kill Dil and Happy Ending on 2014, both of which tanked at the box office. Though is uncertain how far these words of Govinda travel but they certainly reveal a dark side of the industry that many actors fall prey to despite their will to make it big.
Source: Indian Express
Also See: 15 Facts About Govinda That You Probably Didn't Know!
For latest movie reviews, ratings and trailers, download the Desimartini App
Related Content
LATEST REVIEWS
Aren't human beings supposed to be creatures who have their own vices and fallacies? But often ti... more

The tough times of the covid-19 pandemic have certainly made us stop, look around, think and repr... more

Nawazuddin Siddiqui had been shooting for this film called Ghoomketu back in 2014! Yes, this is a... more