Desimartini Is Now India's Second Largest Movie Website
Desimartini is every movie buff's one stop destination to find all they need to know about an upcoming movie. We're the fastest to bring the latest movie teasers and trailers to all songs and videos on one movie detail page. Desimartini takes pride in having the most honest audience movie reviews after every movie release!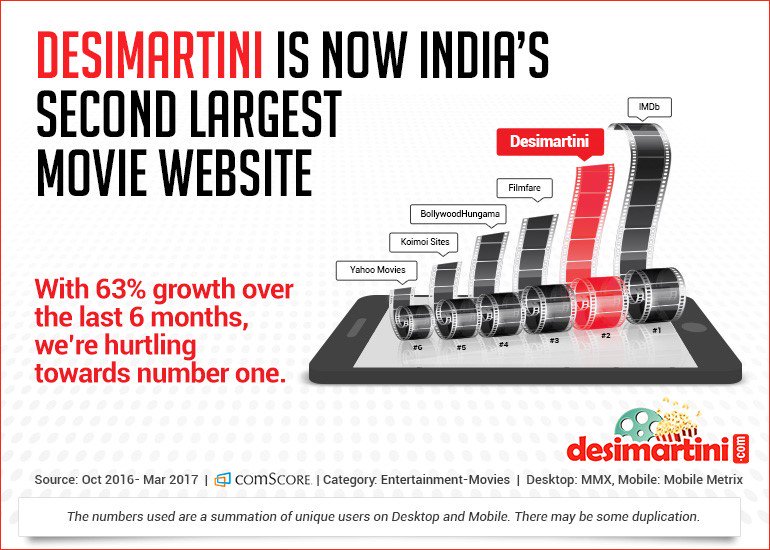 Desimartini MJ (Movie Jockey) programme is open to everyone on the internet, which gives janta the power to express their views over a movie. Users can write and submit their reviews on our desktop site, mobile site and via Desimartini app on Android and iOS. Our MJs are provided access to our FB page to give video reviews on FB Lives and get to meet the stars and interact with them whenever possible.
Desimartini has over 7000 + audience reviewers, 3.5 Million plus user movie ratings, a data base of over 4000 movies across six different industries (Bollywood, Hollywood, Tamil, Telugu. Kannada and Malayalam).
Our star reviewer MJ Smita has reviewed over 500 movies on Desimartini and personally interacted with the biggest of Bollywood stars including SRK and Salman Khan.
Desimartini makes sure that these movie reviews by the audiences travel to the biggest or Bollywood celebs on social media and they get to read what their fans think about their work.
Our user movie reviews which go up the first day, first show on the movie reviews page are regularly shared and retweeted by Bollywood celebs and quoted by renowned production houses for their credibility and honesty.
Desimartini Premiere club takes care of movie fanatics who love to be the first to watch a movie! We go one step ahead and invite audience to watch exclusive premieres of all movies produced by Warner Brothers and give away merchandise during contests on social media.
With all the love and trust from the audience, Desimartini is now India's second largest movie website, leading ahead of Filmfare and Bollywood Hungama. With 63% growth in the last six months, we're slowly hurtling towards the number one spot to bear IMDB.
After all who rates a movie and decides its fate?
Audience! Not critics!
LATEST REVIEWS
It might just be a strange coincidence that Rani Mukerji's Mardaani 2 comes at a time where the e... more

Jumanji: The Next Level the sequel to the highly successful Jumanji: Enter the Jungle is like its... more

Two Actors in dire need of a major hit, a director looking for redemption in his safe bet genre a... more