9 Times Kangana Owned The Couch And Roasted Karan On His Own Show!
Well it is not new to the nation that Kangana Ranaut is one of the most non-Bollywood actresses in the industry! And by that we mean that she is the most unusual actress, who stuns us every time not just with her talent but also with her candour! Whenever she speaks, she does not hold anything back. And that is something that can rarely be seen in Bollywood!
The Koffee With Karan episode yesterday was no different! Kangana rocked the couch and with poise and grace, roasted Karan on his own show! Here are 9 things that were said on the Koffee Couch that can only and only be said by Kangana!
1. When Kangana indirectly disapproved of Karan Johar's parties!
Karan had asked Kangana about her absence from parties and from award functions. She very calmly replied that she does not like parties that are there for no reason at all. She clearly said that she hates parties over weekends where people would come with no purpose, pose for pictures and go!
Are you hinting at Karan, Kangana?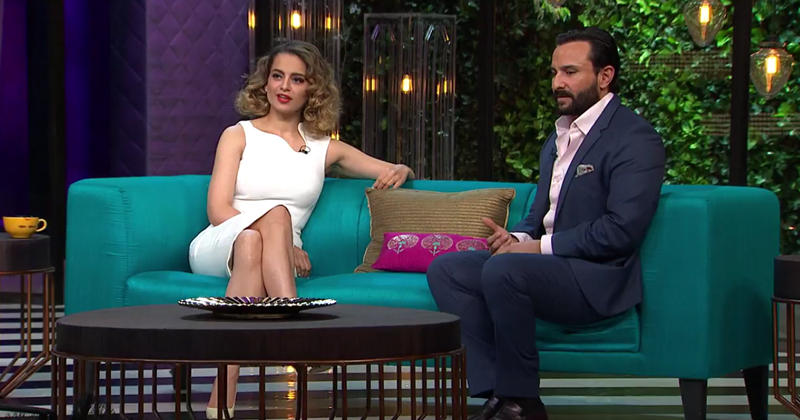 2. When she called Karan the driving force of her life, in the worst way possible
Karan was talking to Kangana about how she too had her share of flop movies but she pulled herself up in a great way! When he asked what her motivation was, she replied with sass that it had been Karan Johar! She said,
Karan, you've been the driving force of my life. If it wasn't for all the rejection and mocking…
Karan tried to retaliate saying he never mocked her. But then Kangana cut him and reminded him about how he mocked her English on that very couch itself!
3. When she politely said how Karan is the root cause of all the controversies in the show!
Karan was trying to bring up the point where Alia Bhatt said that she would want to stalk Kangana because she sees so many airport looks, but doesn't know where she is going!
Kangana said that it was a compliment really and that Karan was "putting words in her mouth" when he asked about it! And then once again, with sass, Kangy said:
So any issues people have with the show, they should actually be having those with you, Karan!
4. When Kangana went unbrindled about her feelings!
So after a lot of serious talk, Karan finally had his Koffee shots! And Kangana once again was on a rampage! From dressing up for role playing, to breaking the heart of a girl who kissed her and fell in love, to being jealous of other's success to kissing and regretting- she bared it all!
5. When Kangana talked of Karan's unnecessary attitude!
In the rapid fire round, KJo asked Kangana who had given her more unnecessary attitude in the industry. Though his question was more gender centric since he asked if it was male or female co-stars, she directly said,
I think you have Karan!
6. Verbal diarrhoea
Well that is what Kangana thinks Karan has!
7. When she calmly reminded him that they are different!
8. And she let it all out against Karan
As we had already seen in the promo, she was just unhindered about calling Karan snooty, flag bearer of nepotism and the movie mafia!
9. Karan tried to redeem himself, and the Queen accepted!
Well the redemption was the Koffee hamper, but we think it began with calling Kangana to the show itself!
Though the episode was slow at times, this was by far one of the boldest episode so far! And Kangana, you go girl!
LATEST REVIEWS
कंगना रनौत ऑफ-स्क्रीन क्या कुछ कहती हैं, बोलती हैं इस सब से अलग एक बात तो एकदम फैक्ट है, हमें प्राउड फ... more

Street Dancer 3D tells the story of Sahej and Inayat who belong to India and Pakistan respectivel... more

Ashwini Iyer Tiwari's Panga is a slice of life film that talks about a very pertinent topic. Shou... more