15 Times SRK Romanced A Girl Who Was Already Taken Or Engaged!
Shah Rukh Khan recently confessed that he's spent most of his time at the movies romancing women who've either been taken or are engaged to someone. While no one else can do it better than the King Khan, it's actually funnily true that he's done it not once, but 12 times. He has this weird co-incidence of dancing and singing at the heroine's wedding functions, or landing to meet her for the first time on her wedding day. He's romanced his Boss's love interest, friend's fiance, and has had the hots for married women in some movies as well.
Take a look!
Darr
He falls in love with Kiran who is engaged and later married to Sunny Deol. He keeps singing songs in her name and shedding blood as a psychopath!
source tumblr
Anjaam
SRK fell again for a married woman in Anjaam. Madhuri is married to Deepak Tijori, whom SRK gets killed and Madhuri is jailed for killing her brother -in-law. SRK who is attracted to Madhuri and mad about her gets seduced by her later when he becomes handicapped, only to be murdered as a revenge.
source tumblr
DDLJ
Raj comes to India all the way from London because he falls in love with Simran who is already engaged to Kuljeet. He dances at her wedding, works like a servant and takes away the bride. LOL!
source tumblr
Read more: 20 Reasons Why DDLJ Has Spoiled Us For Life
Koyla
Madhuri who is kidnapped by Amrish Puri who madly lusts for her, becomes the love interest of mute SRK who later rescues her by putting a piece of coal in Amrish's mouth.
source tumblr
Yes Boss
Juhi Chawla is Aditya Pancholi's love interest in the film, while he plays SRK's Boss. How does he do this everytime?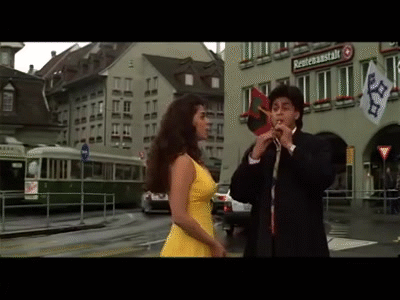 source tumblr
Pardes
Shah Rukh falls for Ganga aka Mahima Chaudhuri who is engaged to his best friend Rajiv. He takes the girl anyway! Were you doubting him?
source youtube
Baadshah
The pseudo detective agency that SRK aka Baadshah runs gets a customer who wants him to help a girl fall in love with a rich man. What happens next? Baadshah plays the cards well but the girl falls in love with him!
source mouthshut
Veer Zara
Zara aka Preity is engaged to Manoj Bajpayee in the movie in Pakistan. SRK comes in between and the love triangle ends up in a tragic tale, only to make them meet when they get grey hair!
source youtube
Kabhi Alvida Naa Kehna
SRK meets Rani at the wedding of her wedding and later he falls in love with her and cheats on his wife.
Rab Ne Bana Di Jodi
Because SRK needs to get the girl, so while Anushka is busy dancing at her own wedding, he arrives as a diligent student of her father. The father gets a heart attack when he gets to hear that the baaraat's bus has met with an accident and nobody is alive. He marries Anushka off to him before he breathes his last. Hence SRK successfully meets the condition of marrying an already engaged woman.
source tumblr
Chennai Express
Would you take Deepika for Niketan Dheer? No right? Rohit Shetty is smart, so he makes SRK fall for her who rescues her.
source tumblr
Jab Harry Met Sejal
Harry falls in love with an already engaged Anushka Sharma in the movie!
source giphy
Chalte Chalte
Rani was engaged to Jas Arora in the movie before she marries SRK.
Dil To Pagal Hai
Madhuri has already said yes to marry Akshay Kumar in the movie when she meets SRK.
Om Shanti Om
Shanti was pregnant with Arjun Rampal's child when Om falls in love with her!
source tumblr
Lucky is the word for this man!
Related Content
LATEST REVIEWS
Tales from the heartland have found a special place in Bollywood and Hansal Mehta's Chhalaang mak... more

As unpredictable as a game of Ludo itself is Anurag Basu's latest film. With four key players and... more

Diwali festivities have finally kicked off on OTT with the arrival of Akshay Kumar's Laxmii. Sadl... more