10 Bollywood Movies That Offered Us A Fresh Take On Patriotism
Patriotic movies in India has always been a sure shot at success. The stories of jawans at the border or the struggles and determination of freedom fighters have always pulled the Indian audiences brimming with patriotic pride to the theatres.
But moving forward from the usual cliches, Bollywood has also churned out film where the emotion of patriotism was reflected in its real essence.
Here are 10 films that wowed the audience with their fresh take on patriotism, sometimes it being even unintentional perhaps.
Toilet- Ek Prem Katha
One of the movies that has created a lot of buzz of late is Akshay Kumar-Bhumi Pednekar starer Toilet-Ek Prem Katha. The movie revolves around the issue of open defecation in India and is a fresh attempt at talking about issues that plague the country and resolve to eliminate them in hopes of making India a better country.
Source: dna
Swades
This was another movie that went on to prove that loving your country and respecting your roots and traditions does not mean turning a blind eye to it's shortcomings but rather addressing those issues and finding a viable solution to those problems.
Source: indiatimes
Jolly LLB
A courtroom drama with a lighthearted treatment, this Arshad Warsi starer was an interesting take on Indian Judiciary. Plagued with insufficient resources, an exorbitant number of cases and inner corruption, the movie depicted how the biggest protector of democracy in the country is fighting a battle of its own and yet attempting to safeguard the law and order of the country.
Source: the hindu
Airlift
Source: zaanews
Based on one of India's most successful operation to rescue Indians aboard in civil war torn foreign land, this movie is a unique attempt to depict that unity in diversity and in trying situations is a powerful force that can make impossible possible. Also, in a scene close to climax when the Indians finally see the tricolour at the airport signalling that their government has actually taken a step to rescue them from war torn Kuwait, the look of relief, gratitude and pride on their faces is one of the most real depictions of patriotic emotions.
No One Killed Jessica
Source: theavclub
It is said that the Press is the fourth estate of democracy and this movie portrayed the true essence of the saying. While on one hand, the movie showed that power of the press can actually lead to justice, on the other hand, it showed that when Indians march together for a cause they care about, it is definitely a force to reckon with.
Mary Kom
Source: the hollywood reporter
Sports movies generally have a patriotic tone, but this one was definitely special. It narrated the story of the stupendous success of boxer Mary Kom and apart from a journey against all odds it also shows how brought glory to India on several occasions, despite belonging to the part of the country that is often forgotten about.
New York
Source: filmibeat
This movie revolved against the brutal treatment of Muslim prisoners after 9/11 attacks in India on grounds of mere suspicion arising from their religious identity. As a country with more than 170 million Muslims, a good chunk of which fell prey to the anti-Islamist propaganda, this movie resonated with emotions of many back home, irrespective of their religion.
Lagey Raho Munnabhai
Source: youngistan
This was one of the best attempts at driving home the message of taking pride in the Indian philosophies of truth and non-violence in the most entertaining and lighthearted manner. It also showed the power of Indians coming together to make the country a better place to live in.
East is East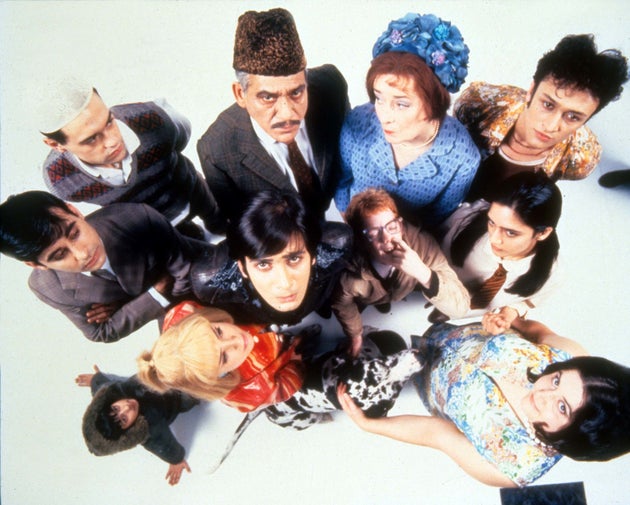 Source: huffingtonpost
A comedy starring Om Puri in one of his most brilliant performances, this was a take on NRIs and their longing to preserve their roots in a foreign land and passing on the traditions to the later generations.
Dhan Dhana Dhan Goal
Source: mrsv.wordpress
Another sports movie on the list, Goal used football as a tool to answer the racism that Indians aboard go through on a daily basis. There was also something satisfying about these odd and often conflicting personalities coming together with their love for football and pride in their homeland being the only common thread.
- Avipsha Sengupta
Get personalized recommendations on what to watch across 35+ OTTs only on
OTTPlay
Related Content
LATEST REVIEWS
Sardar Udham is not the first or even the second name that comes to mind when one sits down to re... more

Taapsee Pannu starrer Rashmi Rocket took off on Dussehra. The film that questions the validity of... more

There are many profound questions in life like is there a God? What is the meaning of life? How b... more