RANKED: The 5 Best Performances Of Ajay Devgn
In a career that spans over two-and-a-half decades and over 100 films, Ajay Devgn has done perhaps more reinvention than any other actor of his stature.
Starting out in the early 1990s, most of his roles belonged to the angry lover boy motif and since then he has tried (and succeeded) in making socially relevant films, critically acclaimed films, comedy films, action-comedies, dramas and now with Shivaay full-blown action-adventure.
And throughout that journey, the actor has never completely given up on his biggest skill: acting. It might be easy to ignore the fact right now, given how commercially driven our stars have become, but Ajay Devgn has given some fantastic perforances.
Here are his five best:
#5 OMKARA
This fantastic adaptation of William Shahkespeare's Othello by Vishal Bhardwaj had the actor playing the role of a gang leader who killed his own wife because he thought she was cheating on him.
#4 GANGAJAL
picture courtsey: Shemaroo
This Prakash Jha movie about deep-seated follies of a town in Bihar, Ajay Devgn was commanding in the role of a newly appointed SP.
#3 COMPANY
In one of the finest films Ram Gopal Varma has made, the actor was commanding as he played the role of a gangster operating in the Mumbai underworld.
#2 ZAKHM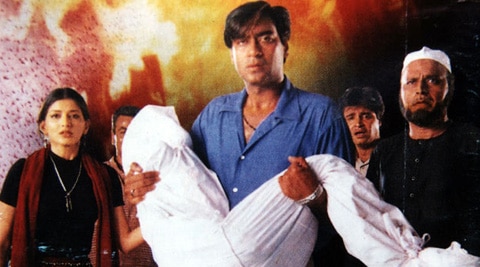 Zakhm provided him the role that won his first-ever National Award. His citation read: "For his restrained and moving performance of an angry man exasperated with the failing system."
#1 THE LEGEND OF BHAGAT SINGH
Playing the role of legendary freedom fighter Bhagat Singh, Ajay Devgn did a fantastic job. Not only he carried the heavy burden of playing such a historic role, he convinced that he indeed was Bhagat Singh. For his role, he won many awards including a Filmfare Award and a National Award.
Read more: RANKED: The 8 Best Performances of Amitabh Bachchan
Get personalized recommendations on what to watch across 35+ OTTs only on
OTTPlay
Related Content
LATEST REVIEWS
If biopics were the flavour of the season in the last few years, then now it has a challenger- fr... more

In her 15 year long career, Kangana Ranaut has given us many terrific performances to remember-- ... more

Shang Chi and The Legend of the Ten Rings is a big diversion from the humdrum Marvel affairs that... more