Five Things We Can Expect From Housefull 3!
It's summertime, which means big movies are coming to our theatres one after the other.
Housefull 3, which will release this Friday, certainly fits the bill. Part of an established franchise, the film will have Akshay Kumar and Ritiesh Deshmukh reprising their roles, along with several other stars, both new and old to the series.
The previous two installments have gone on to become huge commercial hits and it's very likely Housefull3 will continue that trend.
Here's what you can expect from the movie itself:
Lots and lots of stars.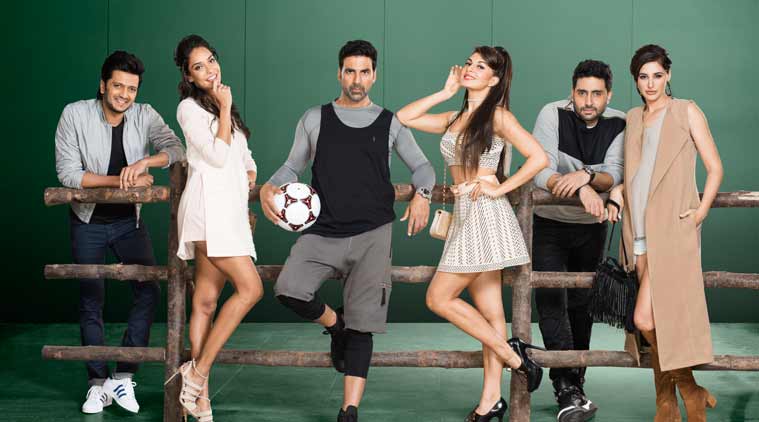 Housefull movies are known for its huge star-casts. Other than the six main actors (Akshay Kumar, Riteish Deshmukh, Jacqueline Fernandez, Abhishek Bachchan, Lisa Haydon and Nargis Fakhri), supporting duties will be taken up by Boman Irani and Chunky Pandey. Jackie Shroff will also have a role in the film.
Dumb and childish humour.
Instead of building genuine comic moments, Housefull films use silly gags and one-liners for humour. Not all of jokes are bad though, but some of them do make you cringe and you wish that you had left your brain outside the theater. Going by the trailer, this film follows a similar path.
Return of the hilarious duo.
Though the actors and directors keep on changing in Housefull films, what's constant is the partnership of Akshay Kumar and Riteish Deshmukh. The funnymen, who have also acted in Heyy Babyy together, will surely be one of the best parts of the film.
Jaggu Da to be awesome.
Regardless of how the film is, one thing's for certain that Jackie Shroff is going to bring it. Though, he hadn't technically stopped appearing in Bollywood movies, but we his badass avatar has been sorely missed.
Dumb girls, funny guys.
Housefull movies have a tendency to make its gorgeous actresses really dumb, while the actors are given all the jokes. This style, sadly, will continue in the film by the looks of it.
In case you want to decide for yourself, here's the trailer:
Get personalized recommendations on what to watch across 35+ OTTs only on
OTTPlay
Related Content
LATEST REVIEWS
If biopics were the flavour of the season in the last few years, then now it has a challenger- fr... more

In her 15 year long career, Kangana Ranaut has given us many terrific performances to remember-- ... more

Shang Chi and The Legend of the Ten Rings is a big diversion from the humdrum Marvel affairs that... more