Here's Proof That Rishi Kapoor Is Among The Most Versatile Actors Working In Bollywood Today
It is time for Rishi Kapoor to get his due. After all, he is among the most versatile actors working in Bollywood today.
Bollywood fans -- as with any other set of movie fans across the globe -- follow three types of actors.
First, of course, is the "Star": You know the Shah Rukhs and the Salmans of the world. A distinct few who have an unexplainable bond with large numbers of fans and whose presence alone can bring joy and excitement to a lot of people.
Next in line, we have the young, emerging talents. Now, not to say that these actors are not always skillful but they are often very good-looking and that makes a source of fascination and inspiration for several people. Now, this pool of actors with some experience is relatively larger. But, at the same time, their respective sets of fans are not nearly as large enough as the legends in the category before them.
Thirdly, we have the "actors". They don't often have huge fan-following but that factor doesn't discount the fact that they are hugely talented. Yes, there are times these actors do get the attention they deserve but more often than not, that is not the case.
Now, while most actors only experience only one of these stages, there are a few who experience all of them. And Rishi Kapoor is one of those few as he continues to go through a renaissance of sorts in the recent years. The once-highly adored young actor and then for several years a bona fide "star", now catches attention with one thing and one thing alone: Acting. (Well that, and Twitter.)
The actor, in the last decade or so, has quietly -- and consistently -- build on his already impressive filmography and has become an actor that we can -- and should -- treasure.
If you still haven't had a religious awakening of sorts about the actor's contribution, don't fret it. Here are some of his roles that he has brilliantly portrayed in the past few years...
In 2007 -- the same year his son Ranbir Kapoor debuted -- he played the role of a fearful immigrant father in this Vipul Amrit Shah romantic-comedy. And he captured both the immigrant experience and his yearning for his westernised daughter to get marry an Indian to great effect.
In case you were under the impression that the actor doesn't do many films, allow his performances in 2009 alone remind you what a pervasive presence he is. His small yet spot-on roles in Delhi 6, Luck By Chance and Love Aaj Kal meant that he almost stole the show again-and-again that year.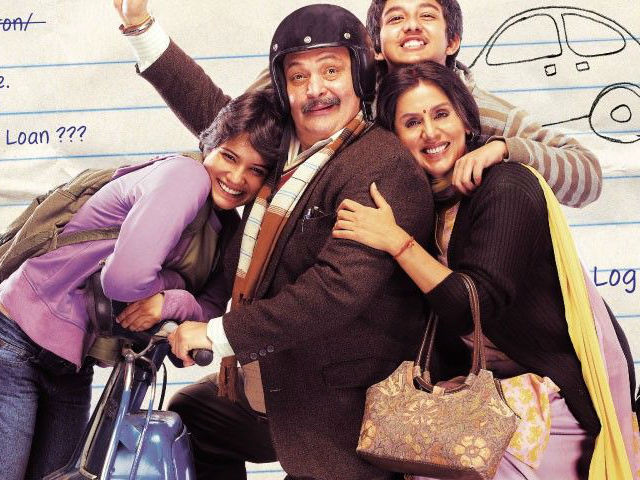 And just in case you were wondering that once upon a leading actor, Rishi Kapoor is now only relegated to side roles, here's the example of 2010's Do Dooni Chaar. Playing the role of a man with middle-class earnings who deals with his modern kids and economy, he gave not only one of the best performances of his career but his performance was also also among the best of the year (he has a Filmfare Award to prove it).
From playing a local thug (Agneepath) to a wanted mafia boss (D-Day), he has successfully tested the villainous waters in the recent years.
And while he has creased his eyebrows and appeared intimidating, he has also found time to appear in light-hearted roles in commercially driven films (like Student of the Year and Housefull 2).
More often than not, all the actors that we love are remembered by us for that one role. The role where they are so performance is so convincing that it feels pure. And Rishi Kapoor has rarely touched our hearts in the way he did in Kapoor & Sons. Playing the oldest member of a dysfunctional family, his foul-mouthed, clear-hearted Dadaji will forever be remembered by us.
More power to you, Rishi Kapoor!
Get personalized recommendations on what to watch across 35+ OTTs only on
OTTPlay
Related Content
LATEST REVIEWS
Sunny the latest directorial venture of Ranjith Sankar has the same flaws as some of his earlier ... more

If biopics were the flavour of the season in the last few years, then now it has a challenger- fr... more

In her 15 year long career, Kangana Ranaut has given us many terrific performances to remember-- ... more