At almost 4 Minutes, Shivaay's Breathtaking Trailer Will Transport You To A Different World!
Naa Aadi Naa Ant Hai Uska, Wo Sabka Naa Inka Unka, Wohi Shoonya Hai, Wohi Ikaay, Jiske Bheetar Basa Shivaay!
Starting with this absorbing commentary from Ajay Devgn himself, when you set out to watch the trailer of Shivaay, there is absolutely no way you will not see it again and again again! It's tough to describe this much awaited trailer for it involves too much of you to ultimately leave you so many thoughts. First it grips you over with its commentary, then it amazes you with its breathtaking visuals & then finally leaves you thinking with its deeply rooted story!
At almost 4 minutes, this will probably be one of the longest trailers you will ever see. It's pretty simple to pick out as to what stands out in this long and absorbing trailer: The visuals! The trailer seems to have laced itself with so many blockbuster making ingredients that it gets too much for you to handle. Here's what the trailer summarizes itself with:
Breathtaking Visuals
Never Before Seen Stunts
International Standards of Cinematography
A Deeply Layered Story
A Touch of Human Emotions
If this doesn't guarantee a blockbuster, what will?
Directed by Devgn himself, it is clear he didn't intend to make the trailer have a linear approach through dialogues. The trailer only runs on a poetic commentary in the backdrop that hails Lord Shiva as Shivaay and makes multiple references to his existence in different forms. However, the connection with the story is not established which makes it even more interesting for us to discover.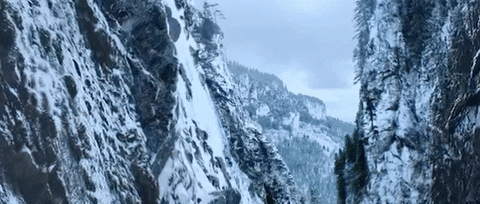 The film has a solid story in place for sure and doesn't just rely on visuals. We keep watching a trapped Ajay Devgn who is battling it out with some people, first to be forgiven and later making an escape. A young girl who looks like is playing his daughter also makes an interesting plot to be unraveled. Amid the high voltage stunts and visuals, these emotional traces in the run are enough to imply there's a story everything is connected with.

Coming on to the biggest asset the film will relish its humongous hype on, the visuals and the stunts. Flying between the snowy white mountains, climbing the rocks in Everest style, jumping from one car to another on a street, have we ever been treated with something like this before? Not quite! When you put all the small pieces together, the product in hand only keeps growing in promise!
When put in perspective, there are no second thoughts to the fact that this Ajay Devgn directorial is in fact the biggest Indian action film ever to be brought up on celluloid. With a mix of supernatural and of course the Shiva theories, if rightly cooked, we are on our way to something special very special this Diwali.
Just like we mentioned earlier, if this doesn't guarantee a blockbuster, nothing ever will!
Pro Tip: Watch it when you're high and stoned and this will be the most trippy trailer of the year!
Watch the trailer here:
Get personalized recommendations on what to watch across 35+ OTTs only on
OTTPlay
Related Content
LATEST REVIEWS
Sunny the latest directorial venture of Ranjith Sankar has the same flaws as some of his earlier ... more

If biopics were the flavour of the season in the last few years, then now it has a challenger- fr... more

In her 15 year long career, Kangana Ranaut has given us many terrific performances to remember-- ... more